Nissan e-NV200
The big secret about the Nissan e-NV200 van? 100% torque on tap, right off the line. It means impressive acceleration and surprising performance.
The Nissan e-NV200 is fun in the twisty bits too, with a low centre of gravity that delivers inspired and secure handling. Of course, you can tell your colleagues it's all about emitting zero emissions while driving. When you are in the mood, it also gives you an efficient and relaxing journey that's smoother, quieter and more refined than a traditional van.
The Nissan e-NV200's Hill Start Assist system makes hill starts easy, by automatically applying the brakes whenever you come to a complete stop facing uphill. As you operate the accelerator, the brakes will release and you'll pull away smoothly. It's advanced technology that works seamlessly and intuitively to make everyday driving that much easier.
The right temperature inside your van can make all the difference when you're behind the wheel all day. Enjoy a refreshing breeze or a speedy warm-up on a cold day with the climate control system, and heated steering wheel and seats.
With its battery pack in the floor, the Nissan e-NV200 electric van has a low centre of gravity that improves handling. It also means the battery pack does not eat into the e-NV200's class-leading cargo space.
(Information sourced from: https://www.nissan.co.uk/vehicles/new-vehicles/e-nv200/battery-performance.html)
There are three seating arrangements of E-NV200 available from Japan:
100% ELECTRIC E-NV200 – 2 Seater
Collapsable rear bench seat
1.9m³ of cargo capacity available

5 seats: 2 in front, 3 in rear
E-NV200 COMBI: 7 SEATER
Rear seating arrangement 3-2-3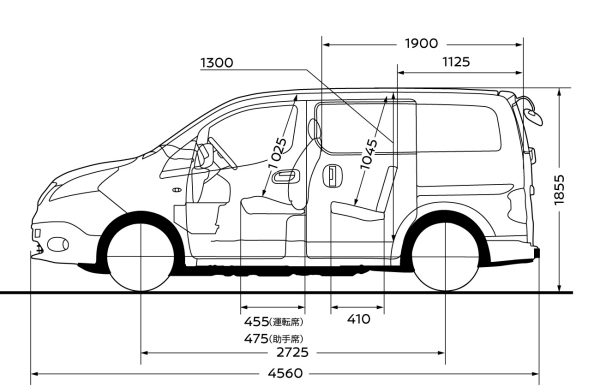 Overall Width (including mirrors)
2.01m
Front and Rear Tyre Size
185/65R15
Gross Vehicle Weight
2220Kg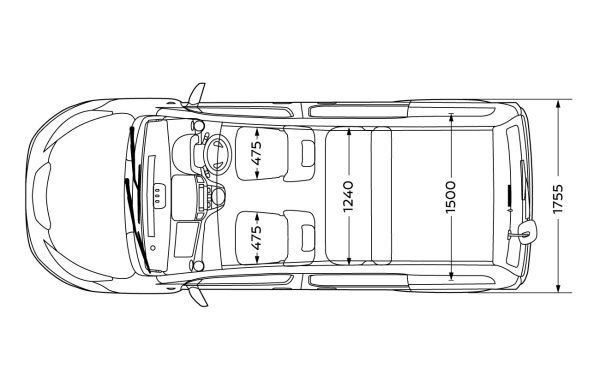 Rear Seat Variation
Seats are optional and can be removed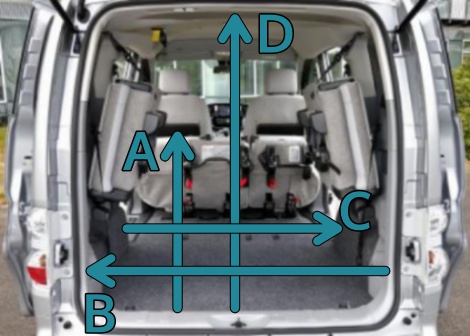 A – Space for a ladder
1.8m without rear seats
C – Max Load Width Between Wheel Arches
1.22m
Side Sliding Doors
7.0m x 1.17 m
(Information sourced from https://www.nissan.co.uk/vehicles/new-vehicles/e-nv200/technical-information.html)